Office Furniture Melbourne
Quality Office furniture for any sized business in Melbourne
5.0 out of 5 stars (based on 20 reviews)
Tom and Kennie were fantastic - so professional and did a great job navigating my 'weird' cupboard set up here.
I'm loving the desk and the colour of the top is just perfect.
I'm so impressed with the service you all provided to me - thanks Louise!
Monica
I cannot thank you enough for the great service, excellent knowledge of your products, and efficient delivery with a smile.  You have made my day and you're a hard act to follow!  If only all businesses ran like this.
Thank you so very very much, all of you.
Sophia
Hi Louise,
Just wanted to say a huge thank you to Tom and Ken. They had a tricky delivery involving stairs, lifts, corners and very tight squeezes and they managed it all with a smile.
Very impressed by their lovely manner and professional customer service.
Please pass on my big thanks.
Warmly,
Emma
Love my new furniture! My home office looks fresh, fantastic & so professional. The ergonomic chair has helped me have far less back pain. The service was fantastic - dealing with Louise was a delight. Can't wait to come back soon for another piece! Thank you, Ingrid
Ingrid
I just wanted to say that my new chair is SOOOOO comfortable. It feels like a Rolls Royce compared to my old one!
Thank you so much for your help and excellent advice.
Best wishes
Anita
Good afternoon Louise,
Thank you we really appreciate your service & communication was fantastic.
Daniel - Cape Woolamai
Thanks so much for everything. The desk is awesome and the fellow who delivered it was super nice and set it up quick smart The cabinet also is perfect for what i need as well. Thanks again so much for the excellent service and fast delivery!
Matt
I just wanted to say what a difference having a proper office chair makes! My new chair is absolutely fantastic and works so smoothly on the floorboards. Many thanks for your advice and service, much appreciated.
Sue
Excellent! Thank you so much for the amazing service 😊
Hopefully the employee is happy with the chair.
Please stay safe and hopefully we'll do business again soon😊
Tegan NSW
Just wanted to let you know that our furniture looks fantastic! Thank you so much for providing such a great product and such a great service. Couldn't have asked for anything better. It makes me want to go to work. Have a great day. Regards
Anastasia
Always wonderfully helpful 😊 Best regards
Anne
Boardrooms look AMAZING!!!!!!!!! Thanks for all your work they are PERFECT!!! Thank you xx
Hailey
Just a quick than you for your help and patience with arranging the workstations, we are very pleased with them Thanks again
Eilish
Thank you so much for such an efficient service, the chair was here in less than the 24 hours it took for me to find it. Thanks heaps, Kind Regards
Your service has been fantastic and I look forward to dealing with you again in the future! Cheers
Kate
Hi Abbots team Just wanted to say thank you for my new desk and chair. The chair is so comfortable and the desk great. I really appreciate such fabulous quality items and such good customer service. Many thanks
David and Dina
Hi Abbots team Just wanted to say thank you for my new desk and chair. The chair is so comfortable and the desk great. I really appreciate such fabulous quality items and such good customer service. Many thanks
Mel
I would like to thank you for assisting us on this project and sending the best guys to install them. We really appreciate that yourself and Adam have been so helpful and professional. Thank you in advance. Best regards
Thank you very much for your great customer service and for this AMAZING chair. My wish has come true - I have a desk chair with the comfort of my recliner!!!  🙂 That's what I call QUALITY without being overpriced. If I ever need another office chair I will go straight back to you, and will definitely be recommending you to others. 🙂 Kind regards
Anna
Love the desk…. And your service!!!! Very much appreciated!
Thanks so much for your help and you will be my first choice if I need any other supplies while I'm working from home. Kind regards
Mark
Chair has arrived! Thanks again for your help, it is super comfortable and I feel a million times better already. Can't believe it came so fast!!!! I haven't even properly adjusted it yet and it is already so much better ergonomically just from having a soft cushion and being the right height. Height is brilliant by the way - you got it perfect! Thanks again
Meg
Your service is outstanding 😊 Wish I had found you a long time ago Thanks very much
Di
Commercial & Home Office Furniture Melbourne
Abbots Office Furniture Showroom in Hawthorn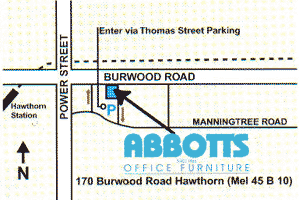 Premium Quality Office Furniture
We have a range of office furniture for sale in Melbourne. One of our aims is to give your clients an impressive first impression of your business. This is all reflected in the great modern style and design of your workspace!
Buy from our range of office furniture for sale online. We supply premium quality office furniture in Melbourne at the best prices. Contact us today to get the best deals on office furniture. We specialise in high-quality commercial and home office furniture. Our range includes chairs, desks and storage. We cater to businesses of all sizes, individuals to government and large corporations. Abbotts prides itself on customer service and high-value products at competitive prices. Also the breadth and quality of the ranges it stocks.
Best Commercial and Office Fitouts
We understand the entire cycle of office fit-outs. From design through to costing, time management and product delivery and installation. Abbotts Office Furniture is a family business with Melbourne's best office furniture. It has a history of supporting Melbourne businesses to grow and prosper. Our showroom has a range of workstations, ergonomic chairs, and electric desks. We also have executive desks, filing cabinets, desk partitions, meeting tables, occasional chairs. We have a wider range of local and imported ranges to order in a selection of finishes and colour ranges.
Ergonomic Office Furniture Solutions
Are you after lumbar support chairs for your employees? boardroom tables and boardroom chairs for meetings and conferences? home office furniture, or reception desks to welcome clients? You can trust Abbotts to provide exceptional service and quality products. With over 35 years of experience, we're one of the best suppliers of office furniture in Melbourne.
Our collection of office furniture includes desks, chairs, visitor chairs, reception chairs . Many varieties and options are available to suit your environment. These include Modern, classical, smart, sophisticated, corporate, casual or professional. With style, we understand the need for office furniture that makes all comfortable. Our range of ergonomic computer chairs can improve workplace efficiency and increase productivity. We also provide home office furniture solutions that are flexible and adaptable. This includes furniture that can be adjusted and moved around. To accommodate growth or change within your business.
Contact our friendly team today to find out what we can do for you and your business.